I have a great love for blogging. I love meeting new people and no matter what you're dealing with, there's such a great support system to be found in the blogging world. Too often I find myself being able to identify with someone and their posts could have easily been my words. So today I am linking up with Lora to share my favorite posts of the week, in no particular order: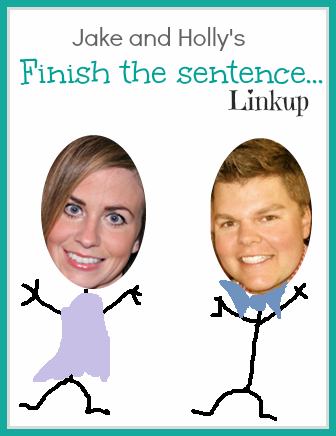 1. People always tell me that my daughter looks and acts exactly like me.
2. In the movie based on my life I would want it to be a comedy.
3. Typically, I end up regretting eating too much.
4. I always ask to leave off the mushrooms. It's about the only thing I don't eat.
5. Kim and Kanye really need to move to the middle of nowhere and out of the public eye.
6. My parents always reminded me what goes around comes around.
7. Every single day I always hit the snooze button multiple times before I will get out of bed.
8. This one time in college, I embarrassingly tried out for mascot. I had no experience and my roommates were cheerleaders and talked me into it.
9. My grossest habit is I chew the skin on my lips, especially when they're chapped.
10. My latest white lie was telling the kids that they I would leave them at home by themselves if they didn't hurry up and get ready.
11. I know all of the words to tons of songs from my younger days.
12. When I grow up I want to be financially stable and super fit and healthy.
13. Sexy time is something that I never talk about publicly.
14. I will never ever get tired of visiting the beach.
15. I think it's hilarious when my kids say things they shouldn't.
Go visit these lovely ladies and Jake and join the parties!