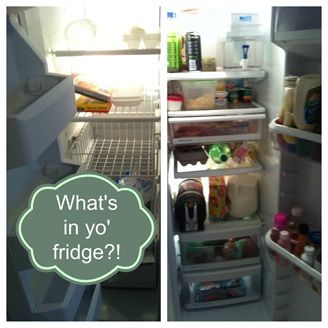 Okay, so maybe the 2 things mentioned in the title of this post really do have something to do with each other.
Holly is having a linky (when I typed that, autocorrect changed it to kinky and I thought it was funny so apparently I'm 12 again!) party today and I'm all for being part of the cool kids! So here's what's in my refrigerator & freezer.
We obviously like to drink a lot and I had even taken the tea pitcher out to make more and didn't even list the grape Kool-Aid that's in the back! I also realize that I probably need to clean out my fridge. We have 3 separate jars of the same kind of cheese dip and another 3 separate tubs of vanilla icing. And I now also see 2 bottles of A-1 in the door. Someone needs a lesson on opening new things if there's already one opened!.
We also have a chest freezer in the laundry room that contains more meat - ground beef, duck, squirrel and possibly a pork loin, tons of boiled peanuts (we normally boil 2-3 bags each season, can you tell we love boiled peanuts), pizzas and lean cuisines. My pantry is also very well stocked with lots of canned vegetables, pasta, juice, sodas, sports drinks and condiments. I know some people that don't keep their homes stocked with food, but we are not those people. Growing up, I can't ever remember being hungry but maybe deep down I have a secret fear of being hungry and that's why it appears that I have a food hoarding problem. I visit Kroger each week and our weekly staples are milk, bread, fresh fruits and vegetables and the kids snacks and lunch. I also stock the freezer back with whatever meat we used that week. I don't really meal plan but I do have a general idea of what I may cook that week and since my home is well stocked I usually have whatever on hand. I do rotate the freezer and canned goods so that I don't end up letting something go bad.
No on to Operation Red Bikini talk. For some reason I woke up at 3:33 this morning. Usually when I wake up in the middle of the night, it takes forever to go back to sleep. (I promise this has a point but for some reason, I can't make a story short!) Well, I let the dog out, put a load of laundry in the washer and started browsing on my phone - Facebook, Instagram, Google Reader and e-mail. I happened to remember that a Hazel and Olive dress I saw earlier in the week was being listed on the site today. I looked and there it was. There was a Large available and I knew it would be a perfect Easter dress. I immediately purchased it since their items tend to go fast.
Then, after the fact I checked the size chart and realized that I may have wasted my money. A large is a 10/12 and I'm currently in a 16. Easter is in 6 weeks. Granted this dress doesn't appear to be fitted through the body, but I know that I have to get my rear in gear to wear this dress on March 31. I guess you could say that I'm on a pre-Operation Red Bikini mission. I have to start working out more and really stick to eating right. Which takes me back to what's in my fridge. I know my eating right has really slacked the last 2 weeks. My goal is to make a meal plan and exercise plan for each day and stick to it. I know it's going to be hard but I also know it's going to be worth it. Usually people give up something for Lent. My goal for Lent (even though it's a few days late) is to stick to my plan - 42 days of exercising and eating right.