It's that time again - Weigh-In Wednesday!!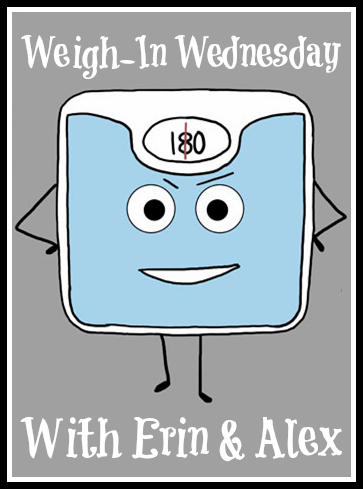 I said goodbye to 2 pounds this week!
Although I did try to stay on track, I will admit that Valentine's candy, Mexican food and the weekend in general got the best of me. But I got right back at it and I feel great.
I can't say it enough - you eat crap, you will feel like crap! I loved this post from Elle Noel. I have always wanted to be a clean eater. I thought clean eating was pretty much all organic and border line vegan and that was something I did not want to do! Her post was reassurance that it can have a different meaning for everyone and I can pretty much do it my way as long as I stick to the general principles.
The last few weeks have taught me that I will have bad days and slip ups and it will be okay. I am a perfectionist and have a huge fear of failure. In the past when I would 'diet' and fail, I would quit, give up and pretend that I never tried to start with. I mean if you never tried or started something then you can't be a failure, right? I lead a very hectic life and could have plenty of excuses why I could fail, but that's what makes this journey so rewarding. What makes me truly enjoy the success. I found this quote by Marilu Henner and it pretty much sums it up:
"Being in control of your life and having realistic expectations about your day-to-day challenges are the keys to stress management, which is perhaps the most important ingredient to living a happy, healthy and rewarding life." Realistic expectations are a great thing to have!
On to other news, this package arrived yesterday:
The sender's name and address verified that it was my Easter dress I ordered last week. But, based on the size of the package I had extreme doubt that this dress would be worn on March 31. I knew the dress would be too small, but that was an understatement! I got it on, but have a long way to go before I actually wear it. Maybe it can be an end-of-summer-date-night dress!
Monday night, I tried
Elle Noel's Cauliflower Mashed Potatoes
. I don't think that I have ever eaten cauliflower. It just never looked appealing enough to me to eat. The fresh cauliflower at my Kroger was almost $5 and I thought that was a little high not knowing if I would eat it or not so I got frozen. They also don't sell just cauliflower so I got the California blend and sorted it out. I did get 2 bags because I wasn't sure what the ratio of cauliflower to broccoli and carrots would be but it was almost double!
I got 3 plentiful servings out of this bowl of cauliflower and it was so good! I will definitely add this to my weekly menu. I don't think I could fool my husband with it and my son said it looked like grits but my daughter ate some and said it was good. Never be afraid to try something new!